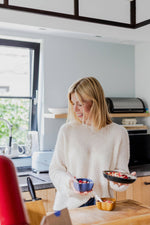 On a sunny day in June we visited Ellen Kegels; founder of the immensely beautiful knitwear brand LNKNITS. Ellen has been a pioneer in Belgium in terms of sustainability, fair fashion & personal branding, with great success: today she gives honest work to over 350 women in Peru, who create the prettiest knitwear products from 100% baby alpaca. As entrepreneurs, young mothers & real foodies we have a lot in common, so it was inevitable we finally met up to talk about those things in real life. Happy reading!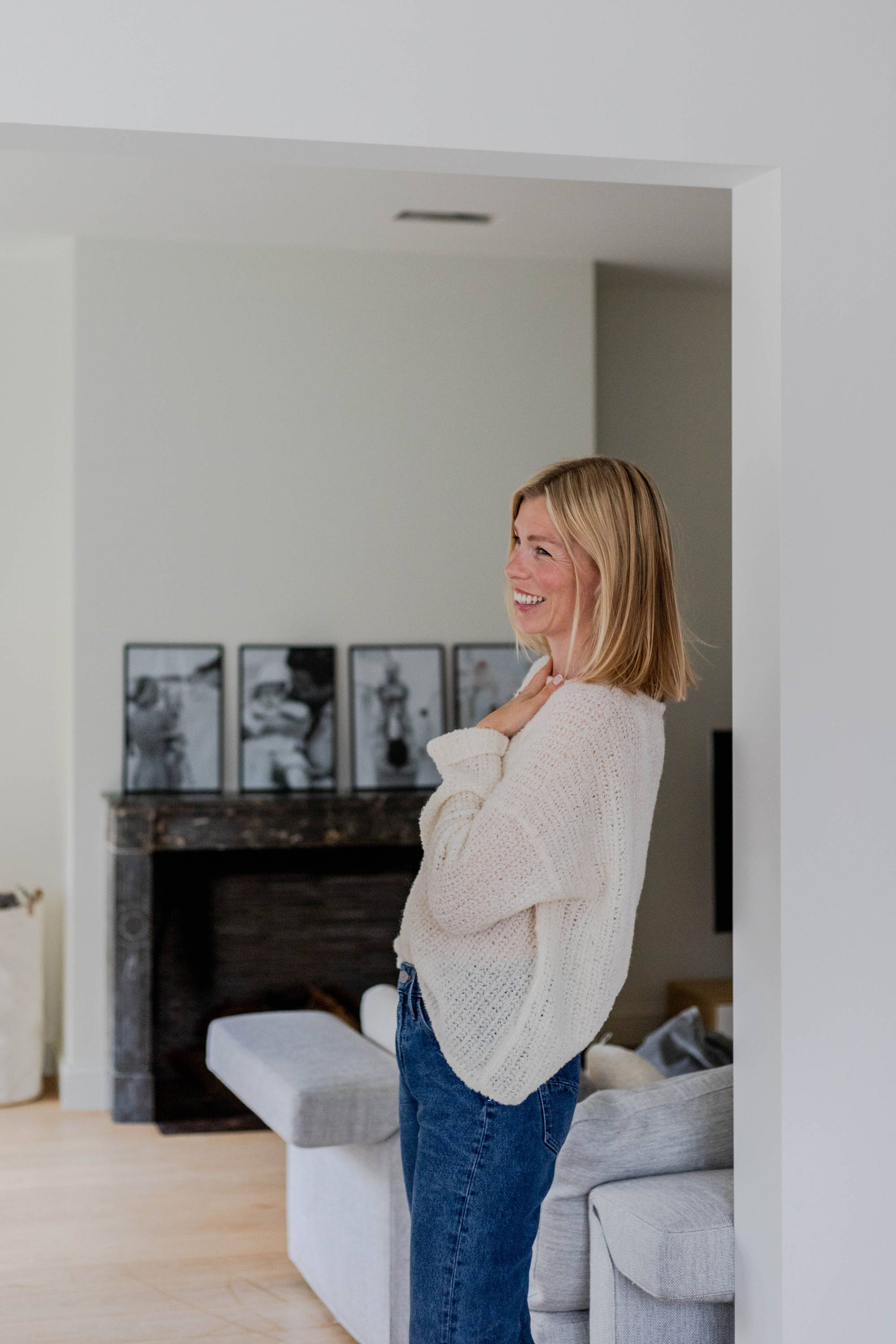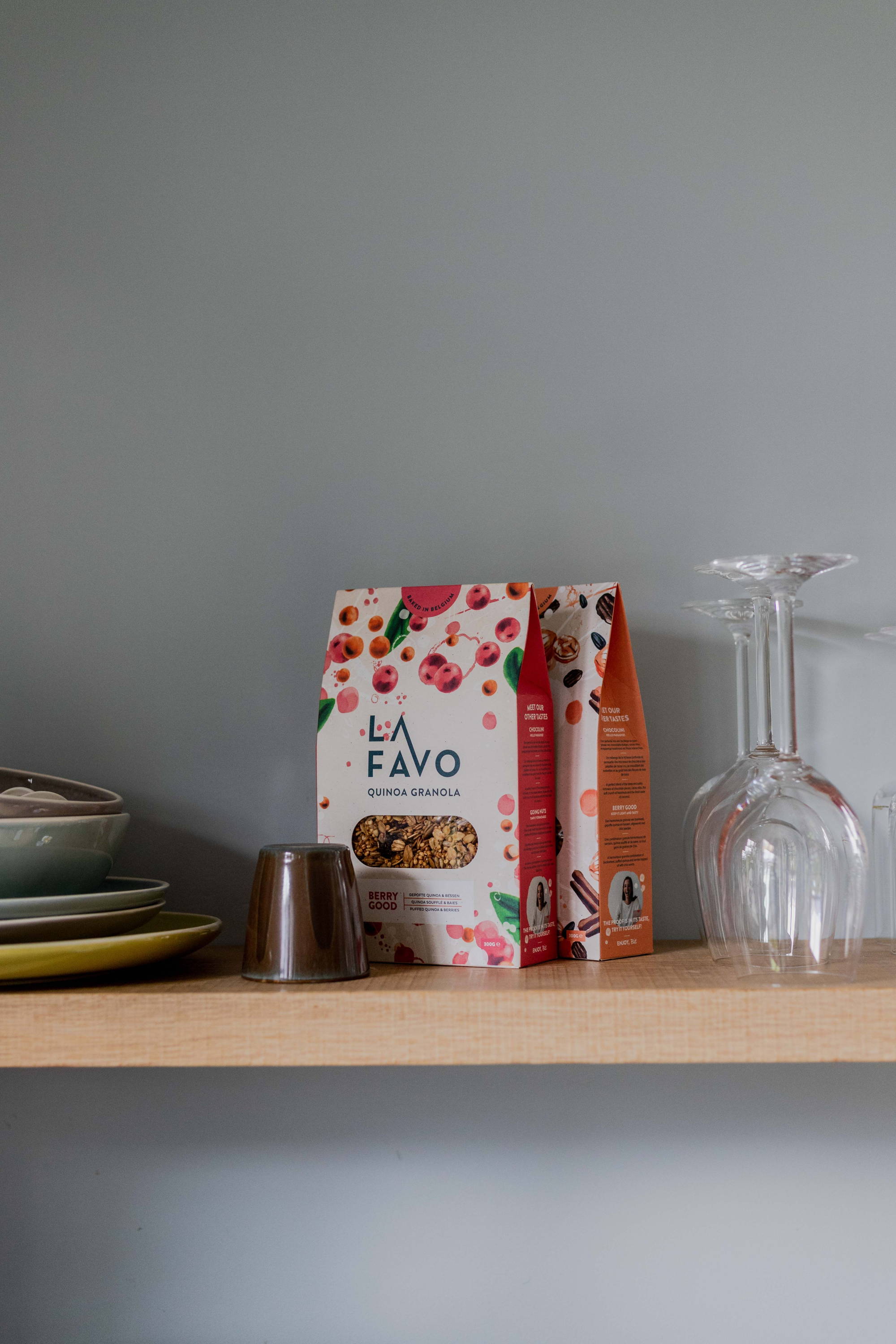 Hi Ellen! Thank you for welcoming us in your home today! For people who don't know you (yet), could you tell us who you are & what you do?
"Happy to have you here, Bie! I am Ellen, a happy mom of two sweet girls, married to the love of my life Nick and founder of fair fashion knitwear label LNKNITS, my first real baby as I sometimes like to call it (laughs)."
LNKNITS has been around for almost 10 years now, and you've been a pioneer in the field of sustainability and fair fashion. Could you tell us a bit about the evolution of your brand?
"It all started when I was a teenager, crocheting beanies for a hobby. But they became quite popular, and pretty soon I was crocheting an average of 6 beanies a day to meet the demand! Because I saw the potential, I took a risk and quit my highly coveted job in advertising to become self-employed and turn my hobby into a real brand & business: LNKNITS.
In my first steps towards a business model, it became very important to me to go for fair production, as well as to use only high-quality materials, namely 100% baby alpaca. I also wanted to be transparent about everything I did, and our products needed to have a high a high tangibility & cuddly factor.
After I became self-employed in 2011, LNKNITS immediately took off! My so-called 'beanies' became a must have! Followed by the scarves, cardigans and headbands… which were also in great demand. I soon had several large wholesale customers and a loyal customer base. But I was only 23 years old, inexperienced, and I worked alone. I soon couldn't follow the demand and a burnout lurked around the corner.
After taking care of myself with the help of a mindfulness course, adapted nutrition, and a sufficiently large portion of rest, I again got a lot of sense of entrepreneurship and LNKNITS slowly but surely evolved to a fixed value.

After 10 years of entrepreneurship, I finally have the feeling that I am running a real, professional business. With budgets, board meetings & strategies, and guiding & motivating a great team… The best part is that it's all starting to pay off, which is truly an incredible feeling."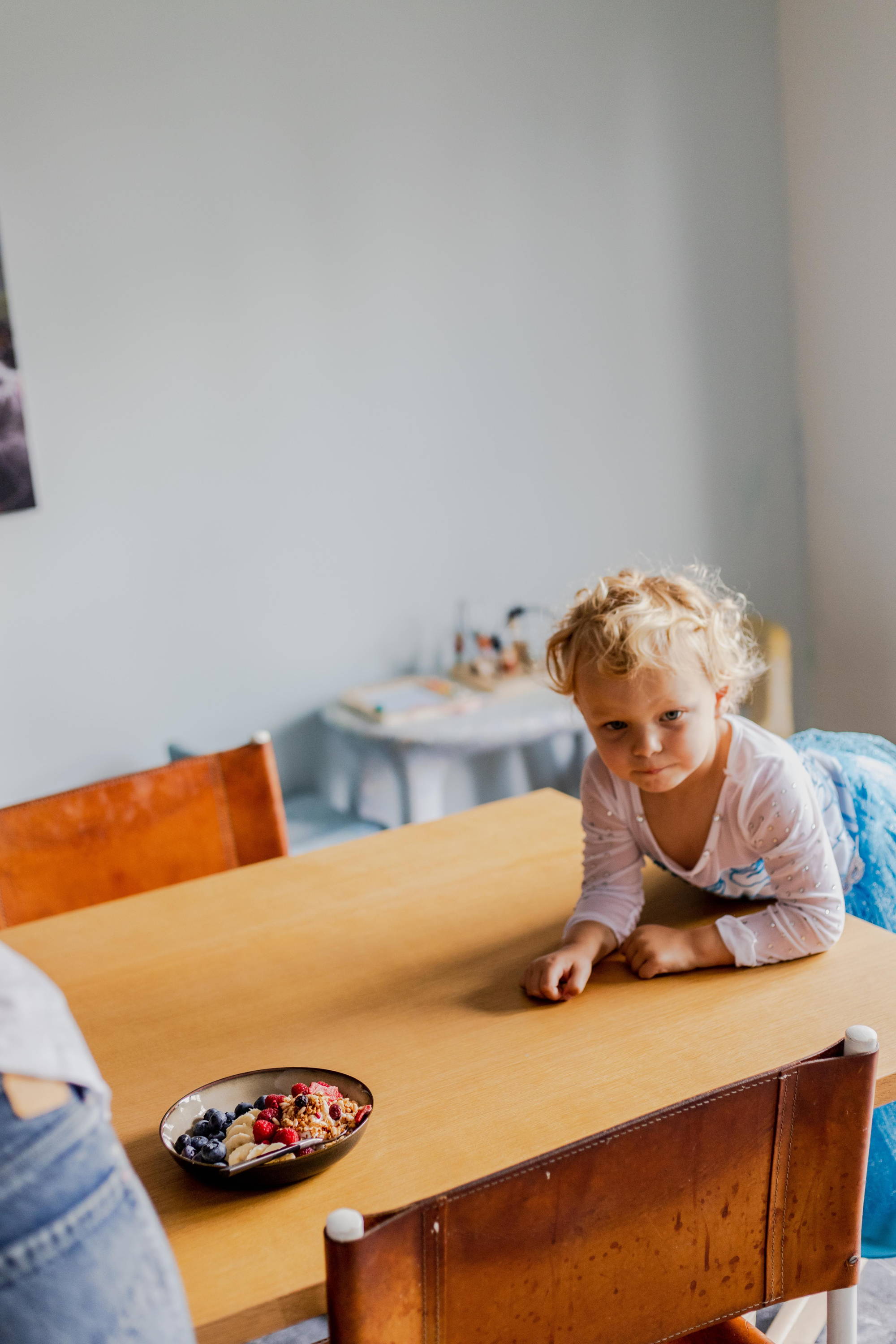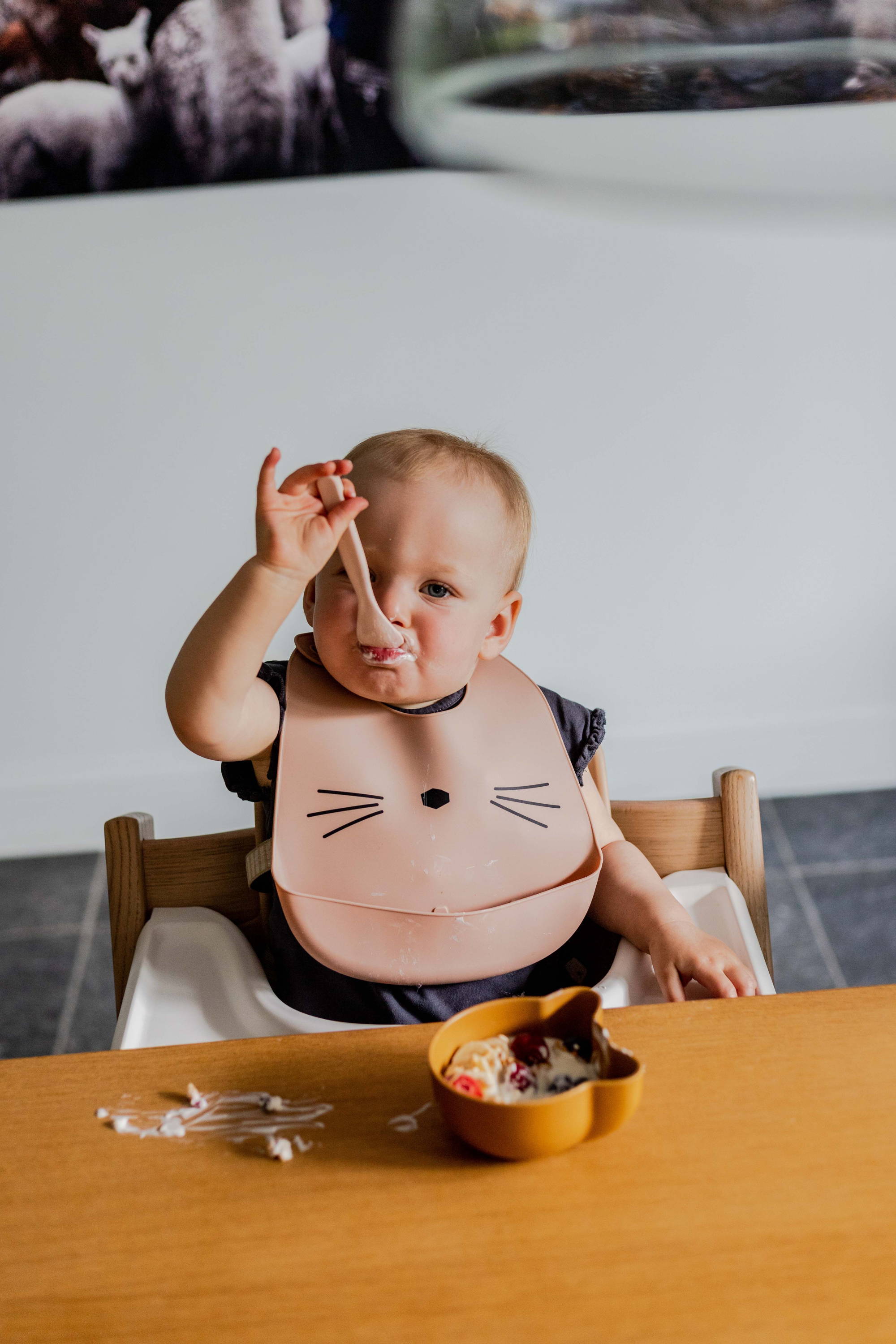 You have long emphasized the importance of healthy food and even wrote a book about it: #lnfairfood! How did that love for a balanced & organic diet and healthy lifestyle come about?
"When I was on the verge of a burnout, my eating behavior was miserable. I never had time to cook so I lived on rice waffles, which aren't nutritious at all! After my annual trip to Peru in 2015, it soon became clear to me I always ate very varied and healthy over there because I really loved (and still do!) the Peruvian cuisine. So I started to create Peruvian inspired dishes at home and shared them on social media. Because I received so many question about them, the idea of the LNFAIRFOOD cookbook was born!
Organic food has become very important to me in recent years. I always cook organically.
My mom has her own vegetable garden and her own chickens. I couldn't live without her fresh eggs! Delicious!"

What is your favorite power breakfast during hectic periods?
"Very simple, but very delicious: La Favo Chocolini with organic curd cheese and lots of fruit! I have recently started running again and believe it or not, grains enriched with vitamin B (all types) are the best thing to eat as a recovery. A great excuse to attack that Chocolini box more than once!"
You are a woman of the world, and have a strong connection with Peru and Portugal… Can you explain why?
"I've gotten to know Peru through LNKNITS. A wonderful country with the sweetest people, the best food, incredible nature... I have only seen a small piece of it, but I hope to discover more of the country with my family in the following years.

Portugal is our second home! My oldest sister lives there with her family, and runs her own bed & breakfast in the Algarve. Always nice to head over there for a family reunion, but Portugal is also a wonderful surf destination, of which Nick and I are fond of. Surfing is a real workout, but it's also very meditative. During these moments of rest in between swell and waves, you can really enjoy the environment and feel blessed for everyone & everything in your life.
The food is also delicious in Portugal. I hardly eat fish but when I do, it's in Portugal! They have the best & freshest seafood. Simple dishes like grilled sea bass or sea bream with vegetables and rice taste even yummier after a hefty surf session!"

Are there certain Peruvian and/or Portuguese dishes that you regularly prepare at home?
"Sure! Peruvian quinoa is regularly on the menu here. Portuguese, not so much. Grilled fish tastes better with a view on the ocean (laughs)!"
How do you know La Favo? What appeals to you about the brand?
"I've been following you for a long time! And after an online order, the entire Poels family became addicted to La Favo. Both the girls, Nick and I eat it daily. It is the perfect breakfast. Keeps you full till noon! And, not unimportant, it is very good for digestion!
I also think it is a very beautiful and stylish brand. Everything 'fits' down to the last detail. Although we are active in a completely different sector, I really consider La Favo as an example. In terms of content, in terms of story, in terms of image…"
You're too kind, thank you! As one foodie to another, what are your favourite restaurants in & around Antwerp?
"Graanmarkt 13, for sure! And we're also a big fan of Orymaz on 'het Eilandje'. Delicious Asian cuisine & super friendly owners."

What's your biggest dream?
"For everything to stay as it is! And for LNKNITS to keep evolving & growing. I also truly hope that everyone around me can stay healthy & happy. As cliché as it may sound, it's true!"
Thank you for your time & energy, Ellen!
Go & have a look at the beautiful LNKNITS collection: www.lnknits.com and follow @lnknits for inspiration!
Want to try or reorder your daily La Favo breakfast? Get 15% discount with code: LFXLN
Pictures by Laura Willems