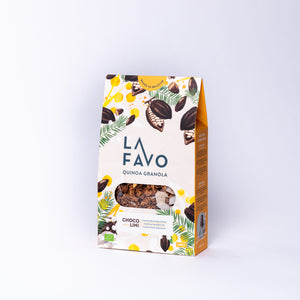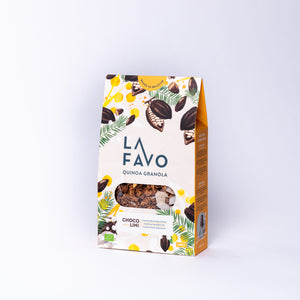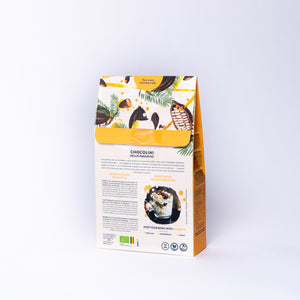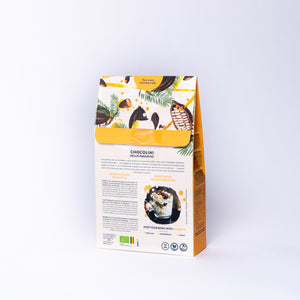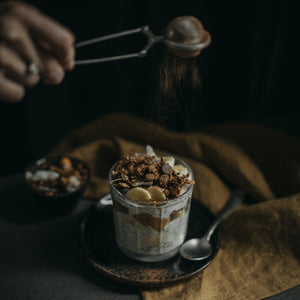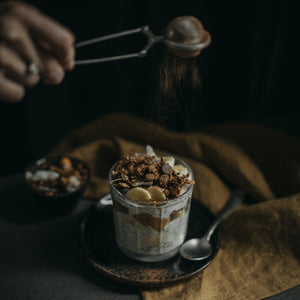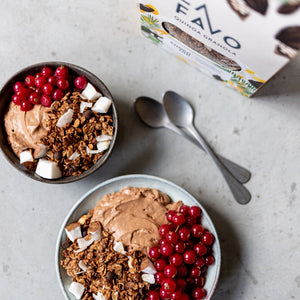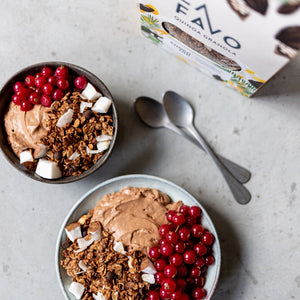 On Sale
Chocolini - Chocolade & Hazelnoten
CHOCOLADE & HAZELNOTEN / CHOCOLAT & NOISETTES / CHOCOLATE & HAZELNUTS
Een perfecte mix van de diepe en pure smaak van chocolade stukjes, cacao nibs, knapperige hazelnoten en frisse kokoschips.
Un mélange de la richesse profonde et sensuelle des morceaux de chocolat et des pépites de cacao cru, au croustillant des noisettes et au goût frais des flocons de noix de coco.
A perfect blend of the deep and sultry richness of chocolate pieces, cacao nibs, the soft crunch of hazelnuts and the fresh taste of coconut.
Ingrediënten:
Havervlokken*, ahornsiroop*, quinoa (8%)*, zonnebloemolie*, hazelnoten (7%)*, chocolade stukjes (5%)*, amandelschilfers*, kokoschips*, cacao poeder*, cacao nibs*, zeezout. *Afkomstig van biologische landbouw. Koel en droog bewaren. Bevat van nature aanwezige suikers. Kan sporen van noten, soja, sesam en gluten bevatten.
Ingrédients:
Flocons d'avoine*, sirop d'érable*, quinoa (8%)*, huile de tournesol*, noisettes (7%)*, chocolat (5%)*, flocons d'amandes*, flocons de noix de coco*, poudre de cacao*, pépites de cacao cru*. *Produit issu de l'agriculture biologique. Conserver au frais et au sec. Contient des sucres naturellement présents. Peut contenir des traces de fruits à coque, soja, sésame et gluten.
Ingredients:
Oatflakes*, maple syrup*, quinoa (8%)*, sunflower oil*, hazelnuts (7%)*, chocolate (5%)*, almond flakes*, coconut flakes*, cacao powder*, cacao nibs*, sea salt*. *Product organically grown. Store in a cool dry place. Contains naturally present sugars. May contain traces of nuts, soy, sesam and gluten.
Gemiddelde voedingswaarden per 100g:
Energie: 460kcal, vetten: 22.9g (waarvan verzadigde 5.7g), koolhydraten: 48.6g (waarvan suikers 10.3g), vezels: 10g, eiwitten: 11.8g, zout: 0.1g
Valeurs nutritionnelles moyennes par 100g:
Energie: 460kcal, matières grasses: 22.9g (dont acides gras saturés 5.7g), glucides: 48.6g (dont sucres 10.3g), fibres: 10g, protéines: 11.8g, sel: 0.1g.
Average nutritional values per 100g:
Energy: 460kcal, fat: 22.9g (of which saturated 5.7g), carbohydrates: 48.6g (of which sugars 10.3g), fibres:10g, proteins: 11.8g, salt: 0.1g.
300G: bag in box
1KG: transparant bulk bag

BE-BIO-02
EU/NON EU AGRICULTURE