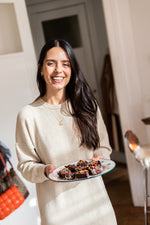 Morgane is leading lady achter het plantbased food platform Humbly by Morgane. Dat ze houdt van een gezonde én lekkere levensstijl hoeft dus niet te verbazen. Wij gingen langs bij de immer stijlvolle Morgane en proefden 2 heerlijke chocolade gerechtjes, met La Favo of course!   Hi Morgane! Bedankt om ons te ontvangen vandaag. Voor mensen die je niet kennen; wie ben je en wat doe je? "Hi Bie! Ik ben Morgane, 25 jaar oud uit Antwerpen. Ik ben de founder van het plantbased food en lifestyle platform "Humbly By Morgane". Ik heb mijn grote passie voor gezondheid en koken...
---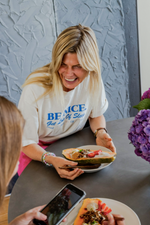 Barbara Jacops - Babs voor de vrienden - is een echte 'multi-hyphenate', wat wilt zeggen dat ze verschillende disciplines tegelijk uitoefent. Als architect van opleiding heeft ze een zwak voor esthetiek, en dit is dan ook een constante in haar leven. Al zijn reizen, eten, koken en fotografie dat ook! Babs will always travel for food en deelt haar favoriete ontdekkingen.
---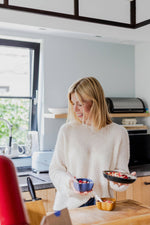 On a sunny day in June we visited Ellen Kegels; founder of the immensely beautiful knitwear brand LNKNITS. Ellen has been a pioneer in Belgium in terms of sustainability, fair fashion & personal branding, with great success: today she gives honest work to over 350 women in Peru, who create the prettiest knitwear products from 100% baby alpaca. As entrepreneurs, young mothers & real foodies we have a lot in common, so it was inevitable we finally met up to talk about those things in real life. Happy reading! Hi Ellen! Thank you for welcoming us in your home today!...