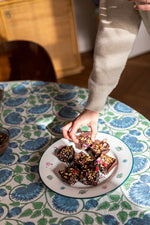 INGREDIËNTEN 1 cup cacao poeder1 cup kokosolie1/4 cup amandel pasta2 ontpitte dadels1/4 kokos suiker4 tbsp ahornsiroop1 cup La Favo granola Chocolini1 cup La Favo granola Boekweit & Bes RECEPT Mix de kokosolie, amandelpasta, dadels en ahornsiroop in de blender tot een zachte massa. Voeg de cacao poeder en kokossuiker toe en mix opnieuw. Giet het mengsel in een kom en voeg de granola toe. Giet het mengsel in een schaal met bakpapier. Werk de bovenkant van het gerecht af met enkele rozenblaadjes en top met granola. Plaats in de diepvries en laat 1 uur rusten tot het hard is. Snij...
---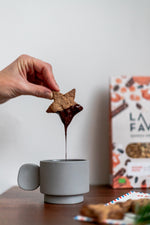 INGREDIËNTEN 100 g haver/boekweitmeel100 g La Favo Going Nuts125 ml ahornsiroop90 g amandelmeel80 ml olijfoliesnuifje zoutUitsteekvormpjes RECEPT Verwarm de oven voor op 180 graden. Meng havermeel, granola, amandelmeel en snuifje zout samen in een grote kom. Voeg de olijfolie en de ahornsiroop toe en roer goed om. Rol het deeg uit en steek vormpjes uit. Wij kochten de kerstvormpjes bij Dille & Kamille. Bekleed een bakplaat met bakpapier en leg er de vormpjes op. Schuif in de oven gedurende 10 minuten of tot de koekjes goudbruin kleuren. Smakelijk! Sold out - +
---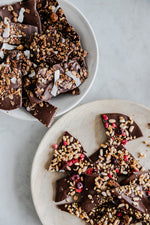 INGREDIENTS 1 chocolate barA handful of your favourite La Favo granola, we used Buckwheat & Berries + Chocolini RECIPE Melt the au bain-marie, keep stirring until all of the chocolate is melted. Cover a large, rimmed baking sheet with parchment paper. Use a silicone or rubber spatula to spread chocolate evenly over the center area of the baking sheet. Make sure it doesn't reach the edges. Sprinkle the your favourite La Favo granola evenly over the chocolate. Lightly use your palms to press the toppings into the chocolate. If you're in a hurry, place the pan on a flat surface...