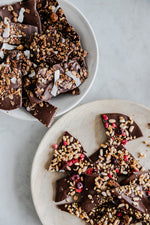 RECIPE
Melt the au bain-marie, keep stirring until all of the chocolate is melted.
Cover a large, rimmed baking sheet with parchment paper. Use a silicone or rubber spatula to spread chocolate evenly over the center area of the baking sheet. Make sure it doesn't reach the edges.

Sprinkle the your favourite La Favo granola evenly over the chocolate. Lightly use your palms to press the toppings into the chocolate.

If you're in a hurry, place the pan on a flat surface in the refrigerator to harden for about 15 minutes. If you're not, let the chocolate cool at room temperature for 2 to 4 hours, until completely hardened.

Once the chocolate is completely hardened, use your hands to break it into about 25 small pieces. Serve immediately, or cover and store at room temperature for up to 1 week.