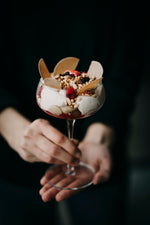 INGREDIENTS (4 P)
For the mascarpone and coffee cream (400g):
500g mascarpone

3 tbsp Amaretto

90g sugar

1 gelatin sheet
120g La Favo Buckwheat & Berries granola
1 box of fresh raspberries
4 tbsp cocoa powder
8 Ladyfingers or Italian tiramisu bisquits
5 tbsp Amaretto
6 Inkbrew Dark Roast espresso
200gr vanilla ice cream (ready-made)
120g raspberry coulis
150g whipped cream
1 vanilla bean
30g sugar
24 galettes Inkbrew Dark Roast coffee Chocolate
RECIPE
Soak the gelatin in cold water and squeeze.

Stir sugar and Amaretto into the hot espresso, add gelatin and stir well, making sure everything is dissolved.

Stir the mascarpone and add the lukewarm coffee mixed with sugar, Amaretto and gelatin. Stir well and put in fridge.

Mix 2 Dark Roast espresso's with your vanilla ice cream and put back in the freezer.

Mix 2 tablespoons of Amaretto with 2 espresso's. Soak the Ladyfingers for 1 minute in this mixture, and set them aside.

Melt milk chocolate, spread it on hard plastic or baking paper and let it set. Break into pieces.

Plump up the cream with the vanilla pod and the sugar.

Spoon a layer of mascapone cream underneath in glass with the Ladyfingers soaked in coffee, add 5-6 raspberries and finish with 3 tbsp raspberry coulis.

Add a layer of mascarpone cream, some raspberries and a big tablespoon of whipped cream.

Finish with 3 tablespoons of La Favo Buckwheat & Berries quinoa granola and add the chocolate pieces on top.