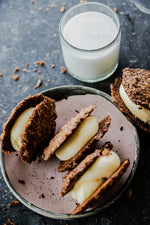 INGREDIENTS
For the cookies:
1 cup oats, gluten-free, divided
½ cup walnuts
½ cup La Favo granola
3 tbsp pumpkin seeds
3 tbsp almonds
3 tbsp flax seeds
½ tsp cinnamon
¼ tsp cardamom
½ tsp flaky sea salt
⅓ cup + 1 tbsp olive oil
⅓ cup + 1 tbsp maple syrup or rice syrup
For the sweet cashew cream filling:
1 cup cashews
1/2 cup of coconut milk or water
2 soft dates, soaked
1/2 teaspoon vanilla powder or 1 teaspoon natural vanilla extract
RECIPE
Preheat the oven to 180°C.

Put 1 cup of oats and the walnuts in the food processor and blend until you reach a consistency of flour.

Stir in your favourite La Favo granola.

Transfer the mixture into a large bowl and add all the remaining ingredients.

Mix everything with your hands.

Line a baking dish with parchment paper.

Roll balls from the mixture. Press them onto the parchment paper, they'll flatten from the heat.

Bake the cookies in the over for 20 to 30 minutes.

To make cookie sandwiches: blend all ingredients for the sweet cashew cream together with as little nut milk as possible to create a thick filling. Put onto one cookie and place another cookie on top.