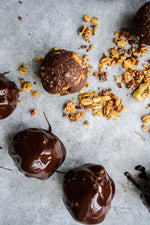 INGREDIENTS
For the balls:
1 cup oat flakes ( you can use buckwheat or quinoa flakes )
8 dates, soaked in water overnight or in hot water for 20 min
3 tbsp coconut oil, melted
1 tbsp raw cacao powder
a pinch of sea salt
1 tsp water (or coffee if you need a boost)
A handful of La Favo by Sergio Herman Nuts & Sea Buckthorn Berry, but any La Favo flavour will do
For the coating:
1 chocolate tablet of choice, melted au bain-marie
RECIPE
Put all the ingredients in a blender.

Add water, if needed, until you have a chunky dough.

Scoop out tablespoon sized amounts of the mixture, roll into balls and incorporate the granola in the centre.

Put them in the fridge or freezer while you prepare the chocolate coating.

For the coating, melt your chocolate tablet of choice au bain-marie. Remove from the heat. With a fork or steel tong, roll the balls in the meted chocolate until fully covered.

Optional: roll each ball in La Favo granola.

Let the balls set for half an hour in the fridge or store in the freezer to have a snack on hand.