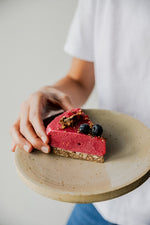 INGREDIENTS
Crust:
125 g of almonds
A handful of La Favo by Sergio Herman Nuts & Sea Buckthorn Berries
10-12 fresh dates, unfitted
2 tbsp coconut oil
A pinch of salt

Filling:
250g fresh (or frozen) raspberries & strawberries
Juice from 1/2 lemon
6 tbsp honey
125g mascarpone cheese
125g quark or curd (or replace it with a fat Greek or Turkish yogurt)

Want to make it vegan? Switch the mascarpone and quark for any plant based milk.
Topping:
A handful of fresh summer fruit and your favourite La Favo granola
RECIPE
Grind the almonds and granola in a blender or food processor for about a minute. Add dates, coconut oil and salt and run the processor until it all comes together.

Flatten it out on the bottom of a non-stick spring form of 20 cm. Store in the fridge while you make the filling.

Blend berries, lemon juice and honey. Stir together mascarpone, curd and the blended berries in a large bowl.

Pour it on top of the crust in the spring pan and put it in the freezer for 1-2 hours (you can keep it in the freezer for days but then you have to let it soften a bit before you serve it.)

Top the cake with fresh fruit and your favourite La Favo granola. Serve immediately.