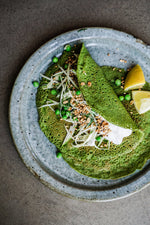 INGREDIENTS
For the spinach crepes:
1 cup buckwheat flour
3 eggs
2 cups (500ml) almond milk
3 cups (75g) baby spinach leaves
1 cup flat-leaf parsley leaves
sea salt and cracked black pepper
2 1/2 tbsp extra virgin olive oil

For the filling:
2 medium zucchinis, shredded
1 cup frozen peas, thawed
2 cups watercress or snow pea tendrils
2 tbsp extra virgin olive oil
2 tbsp lemon juice
sea salt and cracked black pepper
lemon wedges, to serve
La Favo Original Going Nuts granola
RECIPE
1. Place the flour, eggs, milk, spinach, parsley, salt and pepper in a blender until smooth.
2. Heat some of the oil in a frying pan over high heat, then add 80ml of the mixture, swirling to coat the base of the pan.
3. Cook for 1-2 minutes, or until just set.
4. Remove from the pan and set aside, keep warm.
5. Repeat with the remaining oil and batter.
6. Place the zucchini, peas, watercress or snow pea tendrils, oil, lemon juice, salt and pepper in a bowl and toss to combine.
7. Divide the pancakes between plates and top with La Favo Going Nuts granola, the salad and a lemon wedge.