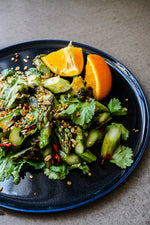 INGREDIENTS
1 red chile, thinly sliced
2 garlic cloves, thinly sliced
1 tablespoon of olive oil
1 bunch of asparagus, trimmed, thinly sliced on a diagonal about 1,5 cm thick
Kosher salt
1 tablespoon of soy sauce
1 tablespoon unsalted butter, cut into pieces or coconut oil
1 medium orange, halved
½ cup cilantro leaves with tender stems
1 tablespoon toasted white sesame seeds
La Favo Original Going Nuts
RECIPE
1. Heat a large skillet over medium-high until hot, 3–5 minutes. Cook chile, garlic, and oil, stirring constantly, until oil starts to shimmer and garlic just begins to turn golden, 60–90 seconds. Immediately add asparagus; season lightly with salt.
2. Cook, tossing occasionally, until asparagus is just beginning to brown around the edges, about 2 minutes. Add soy sauce, butter, and 1 tablespoon water and cook, tossing constantly, until asparagus is still crispy yet cooked through and coated in sauce, about 30 seconds longer.
3. Remove pan from heat. Finely grate zest from one-quarter of orange over stir-fry. Squeeze juice from one orange half over and toss once more.
4. Transfer asparagus mixture to a platter. Top with La Favo Going Nuts, cilantro and sesame seeds.
5. Taste and squeeze more orange juice over if needed.
6. Finished! Serve! ( or place in a container for your lunchbreak)