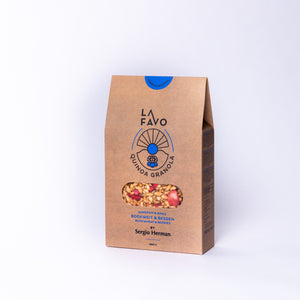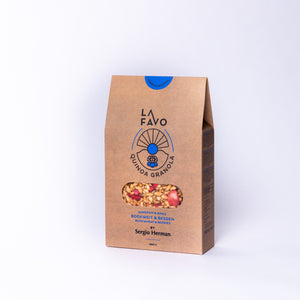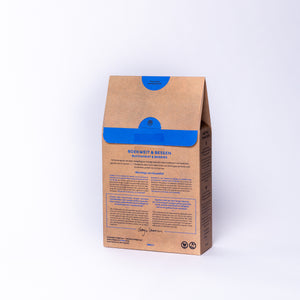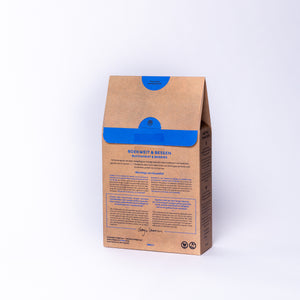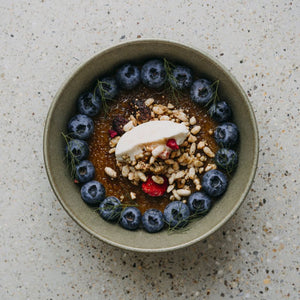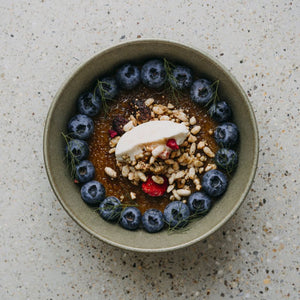 On Sale
By Sergio Herman - Boekweit & Bes
BOEKWEIT & BES / SARRASIN & BAIES / BUCKWHEAT & BERRIES
'De bessen geven aan deze mengeling een fruitige toets die mooi combineert met boekweit, gepofte rijst en quinoa.'
'The berries add a fruity taste to this mix which goes perfectly with buckwheat, puffed rice and quinoa.'
- Sergio Herman -
Ingrediënten: 
Boekweit, gepofte rijst, quinoa, kokosolie, ahornsiroop, gevriesdroogd rood fruit (frambozen, bosbessen, aardbeien, rode bessen), moerbeibessen, veenbessen. 
Koel en droog bewaren. Bevat van nature aanwezige suikers. Kan sporen van noten, soja, seesm en gluten bevatten.
Ingrédients:
Sarrasin, riz soufflé, quinoa, huile de coco, sirop d'érable, mix de fruits rouges lyophilisées (framboises, myrtilles, fraises, groseilles), mûres blanches, canneberges. Conserver au frais et au sec. Contient des sucres naturellement présents. Peut contenir des traces de fruits à coque, soja, sésame et gluten.
Ingredients:
Buckwheat, puffed rice, quinoa, coconut oil, maple syrup, forest fruits freeze dried (raspberries, blueberries, strawberries, red berries), mulberries, cranberries. Store in a cool dry place. Contains naturally present sugars. May contain traces of nuts, soy, sesam and gluten.
Gemiddelde voedingswaarden per 100g:
Energie: 429 kcal, vetten: 16.2g (waarvan verzadigd 9.1g), koolhydraten: 60.7g (waarvan suikers 10.1g), vezels: 7.0g, eiwitten: 10.2g, zeezout: 0.06g.
Valeurs nutritionnelles moyennes par 100g:
Energie: 429kcal, matières grasses: 16.2g (dont acides gras saturés 9.1g), glucides: 60.7g (dont sucres 10.1g), fibres: 7.0g, protéines: 10.2g, sel: 0.06g.
Average nutritional values per 100g:
Energy: 429kcal, fat: 16.2g (of which saturated 9.1g), carbohydrates: 60.7g (of which sugars 10.1g), fibres: 7.0g, proteins: 10.2g, salt: 0.06g.
300G: bag in box
1KG: transparant bulk bag